A Day of Healing with Sound Therapy, Meditation, Yoga, and more!!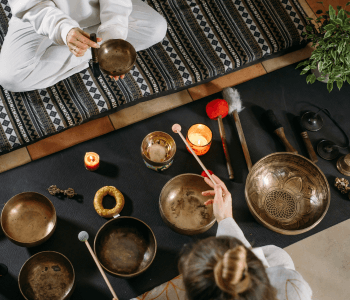 Integrative Wellness Specialist and Yoga Therapist Ann Biese will be providing 30 minute one on one sessions for individuals or families for a day of healing at Lucy's Love Bus' Sajni Center on Saturday, October 14th from 10am until 2pm. Below are the services available to select from!
Option 1: Reiki with Crystal Sound Therapy- Reiki is an amazingly simple but powerful healing energy practice that helps with reducing stress, pain relief and assists in emotional healing too. Reiki sessions allow an individual to deeply relax and let go. This session includes: ~ setting intention ~ releasing ritual ~ crystal sound therapy
Option 2: Yoga Nidra - Yoga Nidra is a form of yoga therapy meditation known as yogic sleep. It is a mind-body practice that guides an individual through a practice of conscious relaxation. A 30 minute yoga nidra session takes the brain into theta and delta waves which studies show can be as beneficial as four hours of sleep. This session includes: ~ guided meditation ~ aromatherapy
Option 3: EFT/Emotional Freedom Tapping – EFT is practice that is similar to acupuncture and it uses tapping on meridian points of the body to relieve symptoms that promote mind and body healing from negative experiences or emotions. A 15 minute self-guided experience will be demonstrated and practiced along energy healing discussion. This session includes: ~ yoga breath work ~ setting intention.
Please email Kerry with your selected service option to kerry@lucyslovebus.org
COVID-19 Protocol (updated Fall 2023): We are asking anyone over the age of 2 who has not received the COVID-19 vaccination to please wear a mask during programs. If you are not feeling well and show symptoms of any type of illness, please refrain from joining the program. As we are unable to enforce testing requirements, all attendees join programs accepting this policy and any associated risk, and may choose to mask for their own safety and comfort.