Stories from Love Bus Families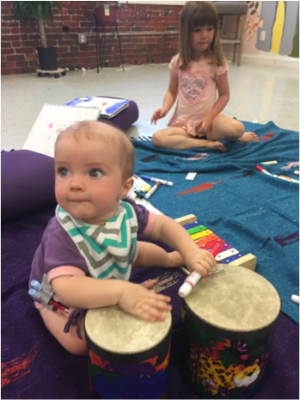 Rowan was a just a newborn when he began experiencing extreme constipation. His mother Molly took Rowan to the pediatrician, but the doctor said not to worry. As the months went by, Molly became increasingly concerned and brought him to a naturopathic doctor. They tried elimination diets, but nothing worked. Then when Rowan was eight months old, Molly found a lump on his belly. The pediatrician attributed it to gas. Frustrated and scared, Molly switched to a new doctor who referred Rowan to the hospital to undergo tests. Within days he was diagnosed with a neuroblastoma, a cancerous tumor that crossed his entire abdomen. "I was in shock," said Molly. "We have no family history of cancer and we lead a healthy lifestyle."
For the next five months Rowan underwent chemotherapy, then surgery at Tufts Medical Center's Floating Hospital for Children. It was intense and traumatic for his entire family – Molly, his father Brian, and Riella, his older sister. Every week, Rowan had appointments at the clinic and during treatments, stayed in the hospital for two to three days at a time. Days in the hospital were long and boring, with few distractions for Rowan.. The one thing he looked forward to was music therapy with a therapist from Lucy's Love Bus. "He absolutely loved it," explained Molly. "He concentrated on the music and it kept him calm."
Molly found out that Lucy's Love Bus also has the Sajni Center in Amesbury, which offers weekly integrative therapy classes. One day, she walked into the center and was greeted warmly by the staff. Riella played with model horses while Molly talked to Executive Director, Beecher Grogan. "It was like a breath of fresh air to have Beecher to talk to. Finally, I had someone who understood what we were going through and could commiserate with me."
Soon Molly took Rowan and Riella to the Sajni Center almost every week. While Rowan enjoyed music therapy, Riella was excited about aerial yoga, and Molly got relief from anxiety and chronic pain with acupuncture. Molly enjoyed the community of parents and children at the Center. "The Sajni Center was the only place I took the kids. I knew that the other families were going through the same thing as us. I didn't have to worry about those awkward conversations with people who find out your kid has cancer, then don't know what to say."
It's been about a year since Rowan was diagnosed with cancer and Molly and Brian are hopeful that his remission will last. Molly and her family are still regular visitors at the Sajni Center.  "Anytime I need support, I can talk to Beecher and the staff at Lucy's Love Bus and they help me. We love being part of this community."
---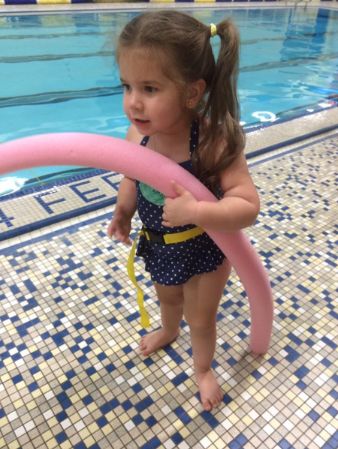 When Cheyenne was almost two years old her mother Danalynn noticed that she had shaky eye movements. Cheyenne's  Pediatric Ophthalmologist referred her to Boston Children's Hospital where she underwent a number of tests. There, Cheyenne was diagnosed with an inoperable optic nerve glioma, a tumor that runs from the optic nerve to the brain. "It was very scary," said Danalynn. "On top of it all, I was expecting another child and was completely overwhelmed."
Cheyenne started a course of 13 months of chemotherapy. The tumor caused Cheyenne to lose muscle tone on her left side and become legally blind in one eye. Danalynn started looking into different ways she could help Cheyenne. She was referred to Lucy's Love Bus (LLB) and reached out to Executive Director Beecher Grogan. "Beecher was a godsend," said Danalynn. "She got back to me right away and understood everything we were going through. She offered us a full range of free integrative therapies, and allowed us to choose the therapies that Cheyenne wanted and needed most.
With help from Lucy's Love Bus, Cheyenne started swim lessons at her local YMCA. "The exercise really helped her improve her muscle strength," said Danalynn. "And it was a fun thing she could look forward to and be with other kids."
After Cheyenne finished her treatment, her condition stablized. But she still continued to receive support from Lucy's Love Bus. We received dance lessons for Cheyenne and her sister. And Lucy's Love Bus arranged for children from a local high school to be paired with Cheyenne and her sisters as their 'Butterfly Buddies' through Lucy's LoveSquad program. For a full year the students sent letters and artwork to my three girls, expressing support and encouragement. At the end of the year, Cheyenne was able to meet her buddies in person and they all shared their experiences with cancer, as many children had family members with the disease.
Now Cheyenne is seven years old and unfortunately is starting cancer treatment again, as she has another tumor growth. Despite it all, Cheyenne remains positive. "She always has a smile on her face," said Danalynn. "She rolls with the punches and accepts what life has to offer." And Danalynn knows that she still has the support of Lucy's Love Bus. "I know I can chat with Beecher whenever I need to. She is my 'go to'. There is no better feeling than connecting with another parent who loves me and my family, and genuinely understands what we are going through."
---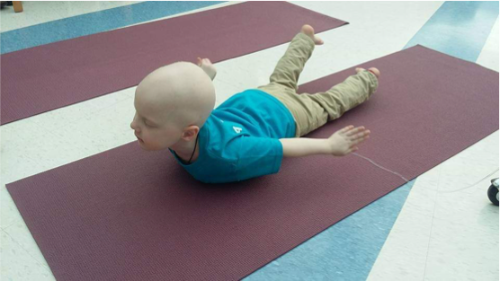 One day when Nate was four years old, his mother Jen found a lump under his shirt the size of a golf ball. The whole family -- Jen, his father Tim, Nate, and his older brother Connor -- packed up and drove to Barbara Bush Hospital that night. A biopsy confirmed that Nate had Ewing's sarcoma, a rare form of soft tissue and bone cancer. "It was devastating," said Jen, "We learned that the outcomes aren't great. I couldn't think of anything worse than losing Nate."
Nate started what would be a nine-month treatment of chemotherapy, followed by surgery in the hospital. It was there that Nate participated in yoga, music therapy, and Reiki, all provided by integrative therapists from Lucy's Love Bus. "The therapies definitely improved Nate's emotional state," said Jen. "He went from being a frightened little boy in a hospital bed to a kid who perked up, looked forward to the activities, and got up and out of his room."
Nate continued to receive chemotherapy treatment, but after a few months he went downhill very quickly. His immune system was compromised so he had no white blood cells to fight germs. Jen had to take him to the emergency room almost every week where he was isolated and his treatment had to be delayed. "We were terrified. We thought Nate probably wasn't going to survive nine months of this," Jen said.
Jen immediately began looking for complementary therapies that could be used with the chemotherapy drugs needed to reduce the tumor. She found out aromatherapy (essential oils) could potentially be used to offset the debilitating side effects of chemotherapy. She began reading clinical textbooks and researching people's personal experiences with aromatherapy.
To learn more about complementary therapies, Jen went to a big holistic expo. The expo was donating proceeds to Lucy's Love Bus, so Jen was able to meet Executive Director, Beecher Grogan and Director of Programs, Jackie Walker at the information table. "I thanked them for the integrative therapies that were helping Nate in the hospital," said Jen. "We talked about the benefits of aromatherapy and they gave advice and offered to pay for an aromatherapist and essential oil supplies. This was a tremendous help!"
After receiving medical permission from Nate's oncologist, Jen began trying essential oils that Nate could be diffused or applied topically. Nate had a positive response right away. The oils helped relieve his nausea, improved his sleep, and strengthened his immune system. Amazingly,  Jen no longer had to take Nate to the emergency room. "The changes were so significant," said Jen. "Our family members, doctors, and nurses all saw Nate improve."
When Nate finished his treatment, Jen began working with Lucy's Love Bus, teaching aromatherapy workshops at The Sajni Center, which she continues to do every other month. "Nate comes with me and talks with kids about the oils and how they helped," said Jen. "I ask children and their parents to tell me about the side effects they are struggling with, and we go from there.  While essential oils are natural, and low-risk, I make them aware that they need to get permission from their oncologist if they want to supplement their child's traditional treatment protocol with essential oils.
After four years, Nate continues to be cancer free. He recently told his mother that he wants to give back, saying "Mom, I want to make a book about my cancer and take it to the hospital not just for the kids, but for the grown ups, too. We can sell the book and give some money to Lucy's Love Bus." Go, Nate!!! Lucy's Love Bus loves YOU!