Welcome Funders and Grantmakers- past, present, and future!
Welcome to Lucy's Love Bus: a one-of-a-kind nonprofit, founded by a child with cancer to help others like her.
The mission of Lucy's Love Bus™ is to deliver comfort and quality of life to pediatric cancer patients by providing funds for free integrative therapies (on an individual basis through our Lucy's Children™ program or group in-hospital settings through The Healing Room™), and to engage young people in activism and philanthropy through our Lucy's LoveSquad™ program.
Lucy Grogan was 8 years old when she was diagnosed with Acute Myeloid Leukemia. Throughout Lucy's long illness, concerned individuals like you raised money to help support Lucy. Lucy learned about the benefits of integrative therapies such as massage, acupuncture, art therapy, and therapeutic horseback riding during her treatment.
When Lucy was 11, she told her mother that when she was "done with cancer" she wanted to start a program that would provide free integrative therapies to all children with cancer to help manage the side effects and late effects of traditional cancer treatment. Since 2006, our generous supporters have helped us deliver love and comfort to over 750 children with cancer.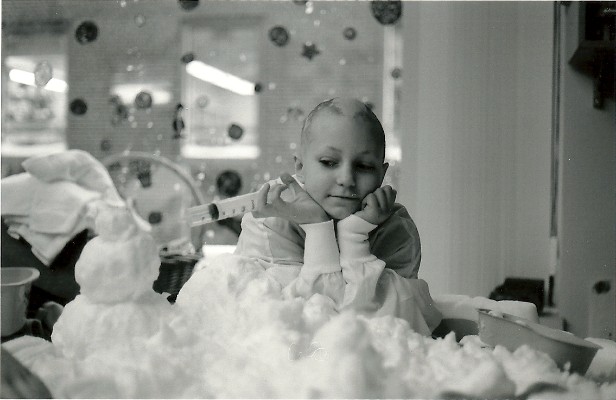 Our funding is generated through multiple sources, in order to ensure our longevity and sustainability; these sources include: corporate partnerships, foundation grants, individual donations, fundraisers, and the Lucy's LoveSquad™ program.
Our corporate partners provide Lucy's Love Bus Charitable Trust with an opportunity to reach out to a variety of audiences with important childhood cancer information and to raise funds for the delivery of comfort and quality of life to the world's most medically fragile children. In today's economy, Americans believe it's more important than ever for companies to be socially responsible; studies show that when price and quality are equal, 86 percent of Americans will switch brands to support a cause they believe in (source). 
We always welcome the opportunity to develop new corporate partnerships with like-minded companies. We look for companies with a solid history & strong brand image who would like to make a significant contribution that is meaningful to your employees and customers. Due to the nature of our work, it is critical that our corporate share our commitment to quality, attention to detail, and holistic wellness.
Our goal is to offer a wide variety of partnership opportunities to meet your specific goals related to employee retention and engagement or branding/marketing. Our Director is an inspirational speaker and offers each corporate partner one free speaking engagement per calendar year of support. This opportunity allows your employees to engage and connect to the cause and your commitment to our cause more deeply.
If your company would like to explore a mutually beneficial relationship with Lucy's Love Bus, we would love to talk further. Whether you are looking to market a product using Lucy's Love Bus trademarks, have a specific event or proposal in mind, or would just like to speak with our Executive Director on how you can begin a partnership with Lucy's Love Bus, we would love to hear from you. Please get in touch with Beecher Grogan, Executive Director, by email at Beecher@LucysLoveBus.org or by calling 857-277-1984.
Thank you!
---
---
Corporate Testimonials
I represent a group of employees at a major aerospace and defense company in Chelmsford, Mass. who have really embraced the mission of Lucy's Love Bus (LLB), due in no small part to Beecher Grogan's passion for her cause. Our hearts go out to the children experiencing things no child should have to go through. We can feel the impact our contributions make when hearing how LLB impacts these children's lives. You cannot hear their stories without immediately wanting to dig even deeper into your pockets.
Unlike wish-based foundations, Lucy's Love Bus gives actual comfort on a continuing basis, so the children also receive tremendous emotional support and friendship from providers. This is what makes LLB so unique. In addition to making monetary donations, my coworkers and I have been moved to volunteer our time and help bolster support through our personal and professional networks.
Beecher's initial mission in establishing this foundation is a fantastic story with strong tugs on the heartstrings, but the vision she has for its future is dynamic and leaves the door wide open for unimaginable opportunities and growth!  My coworkers and I are proud and excited to contribute our efforts to help Beecher Grogan and Lucy's Love Bus achieve their goals.
Jack Belcher
---
[Beecher's] strength and ability to be "exposed" to a roomful of over 100 people is so incredibly admirable and inspiring. It is people like [Beecher] and Lucy who push us to be better... To give back... To keep a sense of humor... And most importantly- to continue living in every sense of the word- even when the world doesn't make any sense. Thank you, from the bottom of my heart.
Danielle McFadden, Executive Director, Greater Lowell Chamber of Commerce, Lowell, MA