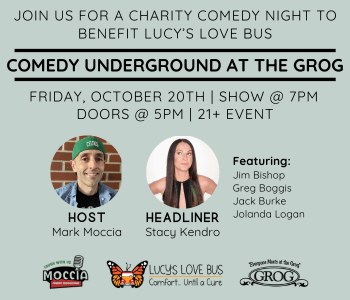 We are proud to bring you a fun night of comedy underground at the Grog to benefit Lucy's Bus. These comedians perform all over New England and are ready to bring the laughs. Your comedians for this evening are:
Host, Mark Moccia. Mark is the founder of Moccia Comedy Productions and loves giving back to the community. In just 10 short months, Moccia Comedy Productions has already (as of this writing) raised nearly $35,000 for local charities from Maine to Boston!
Headliner, Stacy Kendro. Stacy Kendro is a comedian, writer and director doing standup all over New England and beyond. Her time in New York garnered numerous projects including writing a pilot for PBS and appearing in Gotham Comedy Live VR tv taping with Jerry Seinfeld. Stacy is also an actress, directing and editing film shorts including producing a web series called The Albanian Assassin and is currently working on writing projects.
Also featuring comedians Jim Bishop, Greg Boggis, Jack Burke, and Jolanda Logan.
Doors are at 5 and the show begins at 7! This is an evening you dont want to miss!