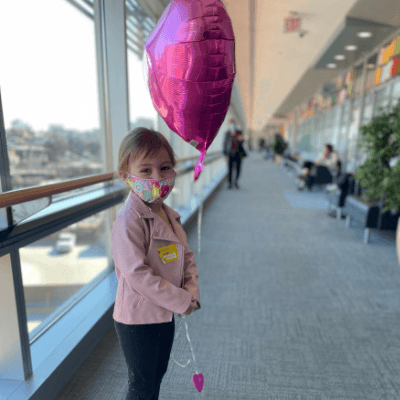 Meet Jane, your March Butterfly Buddy! Our children love hearing from you, so feel free to reply to this email with a message of support, and we will forward it to Jane's family. 
Jane is a determined and fearless five and a half year old. She is very motherly with her baby doll, loves to ride her bike around while listening to her favorite music (country and Imagine Dragons), and she is always creating new art projects in her room that she's happy to interpret for her mom and dad, Sandra and Mike. She has a younger brother Charlie and a new baby sibling on the way! 
In the winter of 2018, Jane started getting low-grade fevers. Sandra and Mike also noticed that Jane seemed pale and lethargic. They set an appointment with her pediatrician, but the next day she had an unusual fall. Jane's legs suddenly gave out, and she fell to the ground, hitting her head on the dishwasher on her way down. Sandra knew this was not an ordinary trip and fall, and immediately took Jane to the ER. They were transferred to Mass General where, after multiple days of testing, and a gradual and agonizing loss of hope, Jane was diagnosed with acute lymphoblastic leukemia. 
Jane would spend the next two years in treatment, spending months at a time in the hospital, or at  outpatient clinics, with Sandra driving back and forth to Boston up to four times per week. Each phase was dependent on the last, and the ability to plan the next month, week or even day ahead was gone.
One time Jane got a fungal infection, followed by pneumonia and was on a ventilator for a week. When she woke up, she barely had the strength to lift food to her mouth. The steroids she was on made her weak, hungry and depressed - a condition that is unbearable to see in a toddler. But Sandra proudly remembers the turning point, when she watched Jane take her first steps, not of her life, but the first steps since this episode. Jane carefully took off, and turned back to give her mom a big smile. She was tired and swollen from the steroids - but she was so determined to get back up and keep trying. That was when Sandra knew that Jane's determination and mental strength would get her through. Her last treatment was in April of 2021.
Jane has had to learn to walk three times in her five years. But today, thanks to your donations, Jane is regaining her strength, independence, and confidence through integrative therapies. She can do handstands in her gymnastics class, which she takes with Charlie, and she has spent the winter learning to ski. Her gymnastics instructor, unaware of her history, has pointed out Jane's natural aptitude for the sport. 
Sandra and Mike are so thankful for the continued support of the Love Bus community. Sandra tells us, "After cancer treatment ends, once your child's hair grows back and they don't look so sick anymore, people assume everything is great and that you get the life back that you had before. But really your life is altered forever. We were in survival mode for so long, but now we're processing what we've been through and working to rebuild. We are so grateful for your continued support during treatment and during this time!"