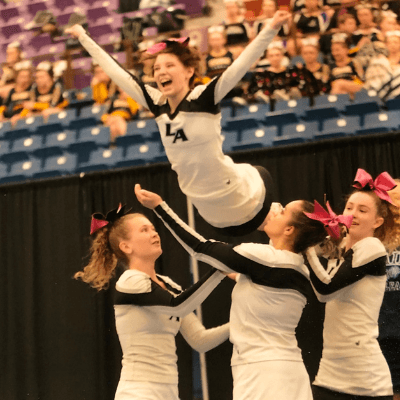 In honor of National Cancer Survivors Day, which was this past Sunday, we wanted to share another story of one of our beautiful friends who has lived through childhood cancer.
Meet Alice. Alice will be turning 18 on June 13th and she'll be attending the University of Maine, Farmington this fall as an early education major!! Alice has accomplished more than most in her 18 years. She is on the cheerleading team; she participates in Youth Team Leaders, Sigma Sigma Chi, and National Honors Society; and she loves giving back through community service. One of her favorite ways to give back is through Operation Christmas Child where, every year, she donates shoeboxes filled with necessities to go to children in need. 
Alice believes that her sense of community comes from a time when she was in the hospital and in need of some hope and happiness. Her community showed up for her, sending her small gifts and cards - things that brought a little bit of joy to her very long journey.  
Alice started getting headaches in the 7th grade. At first she didn't think much of them, but as they grew in severity and went on for weeks, she and her mom sought out medical help. They visited the pediatrician several times and had bloodwork done, but nothing irregular was showing up on her results. Finally, they visited an optometrist, believing that Alice's glasses prescription was the culprit. The optometrist found that Alice had cranial fluid pushing on her optic nerve, and sent her to the hospital that same day to get an MRI. The MRI identified a brain tumor and Alice was admitted to Barbara Bush Children's Hospital for an emergency surgery. 
"That time was really hard for me. I couldn't get over the fact that I could die. I was really scared," Alice said. "It was October 28th - a couple of days before Halloween - and that's what I thought about at that time. I didn't think of anything else, just 'oh no! I'll miss Halloween if something happens.' The doctors told me not to worry, that I'd be back up and running by Halloweeen. They had no idea what it would actually be like once they took the tumor out."
The tumor that they removed turned out to be cancerous and after only a month of recovery, Alice had to begin her cancer treatment. To complicate things further, after the surgery, Alice developed posterior fossa syndrome (PFS), a collection of symptoms which include changes in speech, movement/mobility, emotions, behavior, and/or cognition. Alice's right side was greatly affected, and she had to relearn how to talk and walk, and had to become left-handed because of the limited capabilities in her right hand.
Alice has now been out of treatment for four and a half years and just graduated high school!! Through Lucy's Love Bus she has been able to do horseback riding therapy, take hip-hop and tumbling classes, and do cheerleading to help her regain her mobility, balance, strength, and confidence.
"It's been really hard for me to see that I'm not like I was, that I'm not like everybody else. When I see people doing flips and liberty stunts, I'm disappointed and sad because I was able to do those things once, and now I'm not. But continuing to do cheerleading and tumbling makes me feel like I'm getting closer to achieving my goals, closer to having what I had back," Alice explains. 
On top of living with the effects of PFS, last year Alice developed cataracts in both eyes, another late-term effect of radiation. She had to bring a magnifying glass to school with her to read her assignments until she was able to get her two surgeries - one for each eye - at the end of 2021. 
Despite these obstacles, Alice is excited for the future. She's looking forward to college, and possibly working at the on-campus daycare. She lives her life to the fullest, and encourages others going through their cancer journey to do the same. "You have to keep going. If you stop there's a possibility of giving up, and you never want to give up. And when you keep going, you'll find happiness in it."