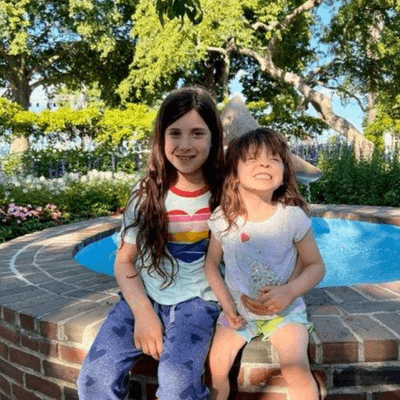 Dear Love Bus Supporter,
We are Clare and Josh, parents to Josephine, who is eight years old, and Matilda ("Tilly") who is four years old. When you make the decision to have children, to bring life into the world, from the moment they take their first breath, they are in your care: your world changes in an instant. You want to protect them, do everything you can to keep them safe, put them in bubble wrap. But, you also need to let them run, jump and get scraped up.
As evidence of this, Tilly – "The Destroyer," as we called her in those years– broke her right arm in June of 2020. While the break didn't seem to slow down our vibrant two-year-old in the slightest, we noticed in November– months after the cast had come off and the bone was fully healed– that she was still experiencing weakness in her right arm. After six weeks of trying physical therapy to no avail, we scheduled an MRI for Tuesday, February 9th.
The MRI revealed a low-grade glioma: an obstructive tumor pressing on Tilly's spine and causing physical impairment. Again, our world changed in an instant. Tilly underwent spinal surgery where it was discovered that because of its location, the tumor couldn't be removed. Our treatment options were limited, so in the spring of 2021, after spending weeks inpatient at a rehabilitation center relearning to walk, due to loss of mobility resulting from her surgery, she began chemotherapy to halt tumor growth.
Since then, she's gone through a grueling 70 weeks of weekly outpatient chemotherapy sessions. Tilly completed chemo this past July– but in terms of being at the end of her treatment, it's more complicated. Because of where the tumor is located, Tilly will never go longer than three months between MRIs for at least the next twenty years. All of the research shows that there will be periods of tumor growth and periods of stability until she reaches the age of around 25 years old, when she– and it– will stop growing. The survival rate for children with these tumors is very high, but depending on the extent of the tumor growth, it can become a quality of life issue. For us, the goal now is to get Tilly to the age of 25 years old in the best shape possible– knowing that along the way it will be more a matter of when, not if, the tumor grows again, and she will need to return to treatment.
Because we want to take advantage of the current tumor stability and set Tilly up best for the future, our day-to-day schedules are packed with appointments for occupational therapy, physical therapy, aquatic therapy, acupuncture, chiropractic sessions, and naturopathy. Though we are only at the start of this journey, this is without a doubt the most emotionally and mentally challenging thing we have ever gone through… and it has had an effect on our whole family.
As a testament to this, we sometimes "lose" our oldest daughter, Josephine. We lose her to her room, in which she does everything except actually sleeping– since Tilly's diagnosis, she has moved her mattress onto our bedroom floor. We lose her to the iPad, where she listens to books and music, plays games, and makes videos of herself talking. We lose her to silence, creating an absence that is just as hard to bear as her cries for attention. We lose her even sometimes when she is making as much noise as she possibly can to try and be heard, seen, or acknowledged anywhere over, under, between or around the seemingly insurmountable amount of space Tilly, her younger sister by almost four years, has been consuming this past year and a half.
But of course we do see her, hear her, listen to her and love her beyond words. So, when we started to lose Josephine, we looked for ways to show her that we see her. We found Lucy's Love Bus through friends, and they have been a game changer. At one point, Josephine panicked about a pain in her neck– since Tilly's diagnosis, every ache and pain rings alarm bells in her head. We wanted her to know that we were taking her concerns seriously, that her needs were being addressed. Thanks to donors like you, we were able to get funding from Love Bus for both Josephine and Tilly to receive chiropractic care: an integrative therapy that provides both physical, as well as, emotional relief, as adjusting the spine helps release the tension held in muscles, allowing for a relaxed body and mind.
Because of your support, Love Bus was able to not only recognize the needs of siblings like Josephine, but to do something about it: with their new Sajni's Siblings program, Love Bus is now able to pay for integrative therapies for siblings of children with cancer, too! We have each had the opportunity to take Josephine to her Love Bus-funded therapeutic riding lessons at Ironstone Farm, where we get one-on-one bonding time and she feels like a celebrity- all the attention is on her!
Because Tilly's tumor is not going away, we have a long road ahead. The integrative therapies that the girls have been able to access through Love Bus have helped Tilly with the side effects of chemo, but they've also helped all of us with the emotional side effects of this long journey that we're all on – especially Josephine. We are not going anywhere, and it's an amazing feeling to know that there is an organization and a community behind us that is not going anywhere either.
Thank you for being there for Love Bus, so that they can be there for families like ours.
With love and gratitude,
Clare and Josh
Josephine and Matilda's Mom and Dad
---
This holiday season, please consider giving the gift of hope and joy by making a one time donation to Lucy's Love Bus, or gift joy all year long by becoming a monthly donor! Every dollar goes a long way to delivering comfort and quality of life to a child with cancer and their family members.
Thank you for your ongoing commitment and support.