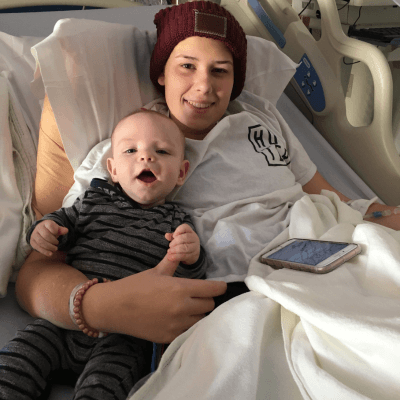 While childhood cancer treatments focus on eliminating the disease, the intensity of the treatment can have a significant negative impact on the child's health, years beyond the end of treatment. One of the effects that is discussed least, yet is perhaps one of the most impactful, is the potential future fertility challenges that survivors face in adulthood due to chemotherapy drugs and radiation.
When a child is diagnosed with cancer, the primary focus of the parents and the child's medical team is to try to save the child's life. The parents review the recommended treatment protocol, along with reams of terrifying language regarding a host of possible side effects. They have very little time to research and make important decisions before treatment must begin. According to the National Institute of Health, "For many children and adolescents diagnosed with cancer, fertility preservation is not feasible due to its expense or investigational nature. In some cases, fertility preservation may be relegated to a lower priority because of the desire or necessity to initiate cancer treatment urgently." With so little time to cope with diagnosis before treatment begins, many families are not given the information necessary to make long-lasting decisions about a child's future fertility while there is still time to make these decisions.
When Lucy, our founder, was 10 years old, her acute myeloid leukemia relapsed, necessitating a bone marrow transplant. She had seen friends go through transplant, and knew that she would need to have total body radiation, which would permanently destroy her fertility. Lucy was devastated by the realization that she would not be able to experience pregnancy or childbirth. Sadly, as a prepubescent child, there were no fertility options available to her, and she lost her fertility in February of 2004. She told her oncologist that she needed to be sedated during radiation, because there was no way that she would be able to just lie still and allow the radiation to "kill her babies."
Lucy's Love Bus has always provided funding for fertility preservation to childhood cancer patients because Lucy taught us how important it is for children to have the option to have children later in life. Fertility preservation provides hope, and a major life event to look forward to, instead of being yet another loss that a child has to accept.
Our fierce friend Samantha was thirteen when she was diagnosed with a rare form of bone cancer called Ewing's Sarcoma. Her mother, Donna worked in law enforcement and was accustomed to thinking ahead to the worst case scenario. When Donna discovered a common side effect of the chemotherapy Sam would be receiving was infertility, she immediately started looking into fertility preservation for her daughter– even though fertility was never mentioned by Sam's medical team, and her treatment had already started. Sam always knew that she wanted to be a mother, but at thirteen, she felt that it was "awkward and a little weird" for her mother to be talking about fertility. After completing treatment, Sam and Donna went to a fertility clinic to discuss fertility options. Just two weeks after the fertility appointment, when Sam was 15, her cancer came back, and she had to go through treatment all over again. The effort to preserve her fertility had to wait.
After Sam completed her second round of cancer treatment, she was seventeen, and was giving more thought to her future, and her desire to be a mother. She and Donna went back to the fertility clinic, where Sam endured three separate rounds of hormone treatments which included multiple injections each day, daily trips to the clinic for testing, and three surgeries for egg retrieval. After all of this, the fertility specialists were only able to save and freeze eleven eggs, which they hoped would be enough for Sam to have at least one child. The cost of storing Sam's eggs comes to $2,400 per year, none of which is covered by insurance. For young men, the process of fertility preservation is much simpler, and the cost of storage is typically less than $500 per year.
Soon after Sam completed the fertility preservation process, her cancer came back once again– and this time, she had to have her leg amputated in order to stop the cancer. Sam's boyfriend, Drew, has been by her side throughout her journey, and came home from college every weekend to support her through her third round of cancer treatment and the trauma of having her leg amputated.
When speaking with Sam, one would never imagine what this smart, spunky, radiant young woman has been through. Her doctors call her a "unicorn," because Ewing's sarcoma usually follows two paths: either it never comes back, or it comes back so aggressively that the child does not survive. But Sam is a force to be reckoned with, and has learned from her mother to always hold onto hope and seek the positive, no matter what obstacle is placed before her. In fact, the night before Sam's leg amputation, she posted an upbeat video on TikTok that got over 10 million views.
To prepare for her surgery, Sam bought a tattoo gun and allowed her friends to cover her leg in tattoos before it was amputated. Her boyfriend tattooed a dotted line just above her knee, along with the instructions, "cut here." When Sam's surgeons saw her leg the day of surgery, they were stunned by her courage and humor in the face of adversity. Of course, having known Sam and her mom for years, they expected nothing less.
Sam is now a certified phlebotomist and is starting nursing school to become a nurse anesthetist or pediatric oncology nurse. Sam is 21 now, and is very grateful to Love Bus for helping to pay for her fertility preservation. Sam hopes to have a little girl someday. "Becoming a mother means a lot to me. It's something I always pictured in my life. I've always pictured having kids."
Thanks to her mother's encouragement, Sam's own determination, and funders like you, when Sam is ready, she will have the beautiful option of starting her own family.
Click here for more information on fertility after childhood cancer treatment.