Lucy Grogan founded Lucy's Love Bus in 2006, from her hospital bed at Tufts Floating Hospital for Children in Boston. Looking at the hustle and bustle out her window, Lucy said, "Mama, we're in Chinatown, right? So, how come I can't get acupuncture here?" Acupuncture was one of the only things that relieved Lucy of the chronic pain and nausea that plagued her during treatment. Thanks to the financial support of folks in her hometown of Amesbury, MA, Lucy had consistent access to integrative therapies such as acupuncture, massage, horseback riding, art, and music therapy. Lucy learned that the integrative therapies that were so profoundly helpful to her during treatment were not covered by insurance, and therefore most children with cancer did not have access to them. She decided that when she was "done with cancer," she would make sure that all children had the same access to the helpful integrative therapies that she took advantage of during treatment.
Lucy named her organization Lucy's Love Bus, because she wanted to deliver love, comfort and quality of life to children with cancer. She felt that cure was very important, but recognized that no one was addressing the immediate suffering that she and her friends faced every day. Lucy's primary concern was to deliver comfort... until a cure. Lucy passed away only six months later, but her legacy of care and compassion live on through Lucy's Love Bus.
Enter: The VW Love Bus. Donated to our organization in 2010, this gorgeous girl is a 1970 Volkswagen Westfalia Bus, fueled by YOUR LOVE! Our great friend Sonya Pelletier of St. Esprit Spa donated $10,000 and coordinated a group of dedicated volunteers to transform the bus. The exterior and interior paint jobs were done with love and care by the tremendously talented Deb Bonaccorso of Deb's Custom Art in North Shore, Mass!
Check out the transformation - WHOA!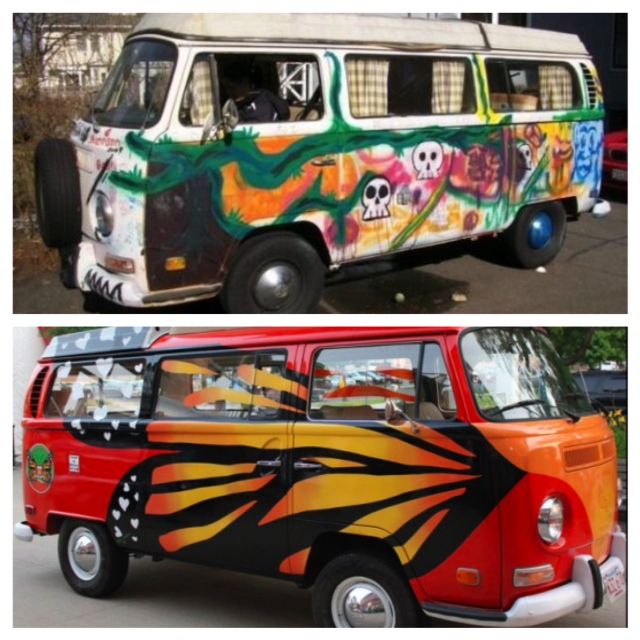 Today our fair lady can be spotted at parades, expos and fundraising events, thanks to the donation of a new engine by our dear friends Pat and Steve Villani.