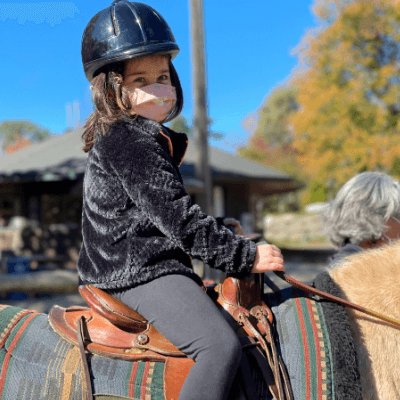 Meet Giovanna: a strong-willed, animal-loving, and super smart four-year-old girl who was supposed to be starting preschool when she was diagnosed with leukemia on September 5, 2019. Instead, she began her grueling, two-year journey through cancer treatment.
Six months later, COVID-19 hit, forcing Giovanna and her parents, Kristin and Mike, into a long and lonely period of isolation. Between the isolation and Giovanna's ongoing treatments, it was impossible for Giovanna to 'just be a kid'.
At Tufts Children's Hospital, Giovanna participated in mindfulness, yoga and Reiki therapies through Lucy's Love Bus. When Giovanna asked her mom if she could ride horses, Kristin knew she could count on Love Bus for support! Giovanna began therapeutic horseback riding lessons in October, and Kristin saw the difference immediately. 
Horseback riding empowers Giovanna, building her core strength and confidence as she joyfully takes charge of her favorite horse, Mickey. For Kristin, the experience brings tears to her eyes because her daughter "finally just gets to be a kid again."
Giovanna finished cancer treatment a few weeks ago, and now begins her survivorship program. She will still need to go to her monthly follow-up appointments, but she'll also be enrolling in first grade. Go, Giovanna, go!!!
Kristin and Mike are especially thankful to you for giving Giovanna the extraordinary gift of being a kid again.