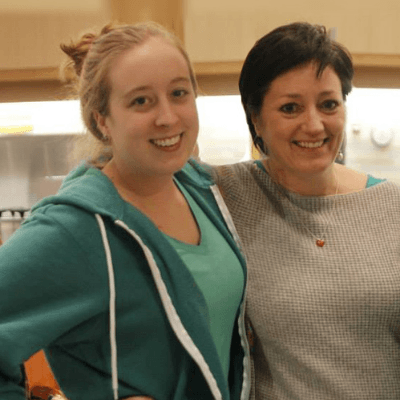 Dear Love Bus friend,
Happy spring! I have always loved the spring season because it brings the promise that everything can begin again - that we can embrace something new. I'm writing to you today with some exciting news about a new beginning. On June 1st, after serving as the Executive Director of Lucy's Love Bus for sixteen years, I will be turning the steering wheel over to my trusty co-pilot, Jackie Walker. Jackie joined the organization in 2013 and has been instrumental in developing our programs, our systems, and ensuring the safe delivery of integrative therapies through her unwavering attention to detail and thoughtful approach to addressing the most pressing needs of the children and families we are so honored to serve.
 
The Board of Lucy's Love Bus and I are thrilled that Jackie has agreed to take on the role of Executive Director, and are confident that she will lead the organization with the same dedication to preserving Lucy's original vision, with an eye toward innovation and inclusion.
 
It has been the greatest honor of my life to fulfill Lucy's vision for sick children. It has been an indescribably beautiful and humbling experience— to be allowed into the most sacred time in so many families' lives; to bear witness, and to help wherever I could. I know that Lucy created Love Bus to help other children; but she also created it as a gift for me- because she knew she would not survive, and she knew that I would need to find purpose once she had gone.
 
From that lovely gift, thousands of helpers, donors, partners, and contributors have grown this extraordinary little organization into a powerful light of hope and comfort to countless children and families facing the most terrifying experience of their lives.
 
I am delighted to share that I will continue to be a part of Lucy's Love Bus. From June 1st through the end of the year, I will be assisting with this transition and developing a new respite program for our families. Starting in January, I will work part-time for Love Bus providing direct emotional and practical support for children and their families, through support groups, respite work, and end of life doula services.
 
Looking back over the past sixteen years, I am absolutely overwhelmed- in the most wonderful way- by the work we have all accomplished together. Lucy's vision for Love Bus grew into something so much bigger than either of us could have ever imagined. It has grown through hard work– but also through love; at times effortlessly, as if all of our angels were just around the corner, pulling strings and making things happen right at the very moment we needed it.
 
I can't wait to see how much further Jackie, Kerry, Stephanie, and our amazing Board of Directors will take Lucy's Love Bus! I hope that you will join me in doubling down your support and renewing your commitment to the bravest children on earth to ensure smooth sailing for Love Bus for years to come.
 
Thank you for everything you do to keep Lucy's Love Bus rolling, and for always keeping our beautiful Love Bus children in your heart.
With love and heartfelt thanks,
Beecher ❤️