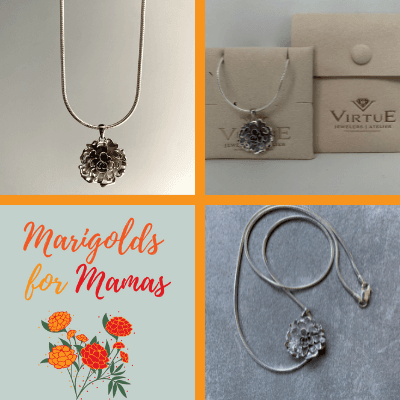 Today, July 23rd, 2022, marks 20 years since our founder Lucy Grogan was diagnosed with leukemia. It marks two decades since the beginning of a very long journey for Lucy and her family, including her mama, and Love Bus co-founder, Beecher Grogan. Beecher, and all of our Love Bus mamas, have experienced the heartache of the diagnosis date, and have summoned the courage to move their families forward on a journey that they never signed up for.
In memory of Lucy– in honor of all of those who let their inner light shine on others, and who put the needs of someone else above their own, Lucy's Love Bus is excited to launch Marigolds for Mamas! In partnership with Erdem Kaya, master jeweler and owner of Virtue Jewelers, we have created a one-of-a-kind marigold pendant!
Marigolds have a rich history, symbolizing power, strength, and the light that lives inside of a person. They represent healing and restoration, and are prized for their medicinal properties. 
There are so many mamas and caregivers out there who, through pain and heartache, have gathered their strength and power to help heal and restore their families. Your purchase of a marigold pendant necklace honors these caregivers, mamas, and all strong women. Gift this necklace to a special person you know, wear it to honor your own strength, or purchase one as a gift for one of our brave, selfless Love Bus mamas.
Thanks to the generosity of Virtue Jewelers, 100% of the proceeds from every necklace purchased will go directly to the children and families of Lucys' Love Bus!