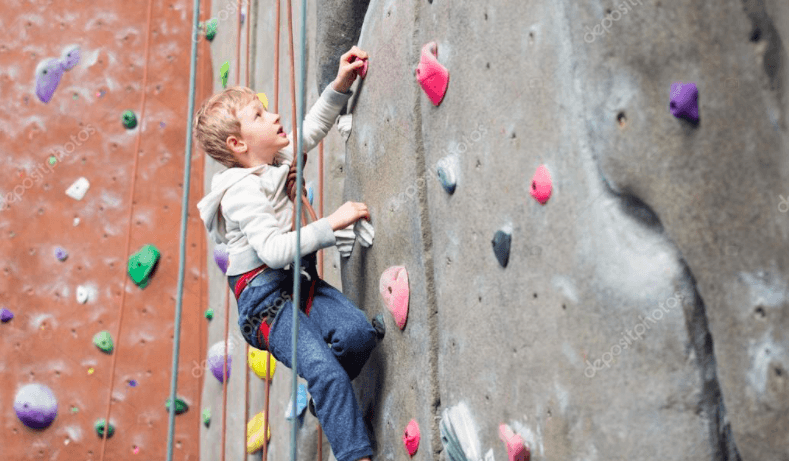 In the childhood cancer community, there is no competition– only collaboration. Lucy's Love Bus is just one strand of the fabric that weaves together to create a safety blanket for families of children with cancer, so that they feel supported, loved, and as comfortable as possible during a terrifying time. Lucy's Love Bus is continuously adding to our wide network of partners and friends in the realm of childhood cancer support– below are a few examples of the partnerships we have formed to make magic happen!
Group Programs with On Belay and Northeast Passage
On Belay is a New Hampshire nonprofit that facilitates adventure-based programming for children with a family member with cancer, offering participants an opportunity to cope - and perhaps heal through - adventure, play, and time away from dealing with their family's illness. Lucy's Love Bus is excited to partner with On Belay to bring new and innovative program offerings to children with cancer and their siblings! Our first joint program is April 1st at MetroRock in Newburyport where children with cancer and their siblings will "learn the ropes" of indoor rock climbing! Archery and surf lessons will also be offered to our families later this year!
All joint programs are fully adaptable to meet the needs of each and every child who wants to participate (barring any age restrictions for safety) thanks to our additional new partnership with Northeast Passage, which will provide assistive technology and trained usage professionals at each program as needed.
Riding with Ironstone Farm
Ironstone Farm in Andover, MA has been a longtime partner of Lucy's Love Bus. Ironstone provides children with cancer access to therapeutic horseback riding lessons on an individual basis, allowing the child to build their core strength and confidence. Starting in 2021, our two organizations partnered to bring group programming to all of the children of Lucy's Love Bus: both sick kids and their siblings.
These monthly programs invite 8 children to join in two activities: one session of therapeutic riding, and another fun activity - creating a treat for the horses to enjoy or hanging with the herd in their paddock - that changes each program! One activity that's a crowd favorite is "at liberty," where the child must be calm and relaxed, then walks the inside of the pen and the horse chooses to follow the child– no ropes or reins!– but demonstrating a sense of trust between the two.
We're excited to share that Ironstone Farm's state-of-the-art retreat center opened this year, and Lucy's Love Bus will be utilizing the center for a caregivers retreat! A group of mothers that are supported through our Love Bus Ilene's Caregivers program, and who meet for a weekly virtual support group, will be attending a Lucy's Love Bus weekend retreat at Ironstone Farm, bringing the group together in person from all corners of New England!
Thank you to Golf Fights Cancer and UNICO for their funding support to make this partnership possible, and to The Ilene Beal Charitable Foundation and The Margaret Stewart Lindsay Foundation for supporting the Ilene's Caregivers program!
New Healing Room Programs at MGH and UMass Memorial
When The Healing Room Program first launched in 2016, it was a full circle moment: in-hospital integrative therapies entered the doors of Tufts Medical Center, the founding location of Lucy's Love Bus. Beginning with offering music therapy– offered without touch and through the universally understood language of music– Lucy's Love Bus was able to demonstrate the healing power of integrative therapies to the patients, families, and medical teams at Tufts. By the time Tufts closed its pediatric oncology department in 2022, Lucy's Love Bus was sending four different integrative therapists into the hospital, with something available for patients each weekday.
With the sad news that Tufts Medical Center would be closing its doors to pediatric oncology patients, many of the families we serve scrambled to move their child's care to other hospitals. Some families transitioned to Hasbro Children's Hospital in Providence, where Lucy's Love Bus has had an existing acupressure/acupuncture program since 2017. In order to meet the needs of those children seeking care in Boston, Lucy's Love Bus and Mass General for Children began working together to launch The Healing Room in their outpatient clinic, offering continuity of care to the patients of Tufts who had already seen so much change. We're excited to announce that Ann Biese, Board Chair and our LLB yoga therapist at Tufts, will be starting at MGH in early March 2023!
Lucy's Love Bus has always prioritized finding hospital partners that primarily serve marginalized communities, and in our recent partner search, we continued to seek out partnerships with area hospitals who hold similar values and commitments to support these underserved populations and provide them with access to integrative therapies. UMass Memorial Health has proven their dedication to help reduce health inequities and ensure health care access for all residents with their newly established Worcester Health Equity Fund, and Lucy's Love Bus is proud to partner with them!
Thank you to Wellforce, Greater Worcester Community Foundation, and Fred Harris Daniels Foundation for making these new partnerships possible! And, to the Beveridge Family Foundation and The Evelyn S. and K.E. Barrett Foundation for supporting our continuing programs at Baystate Children's Hospital in Springfield and Hasbro Children's Hospital in Providence.